Johan Cruijff ArenA
De Johan Cruijff ArenA, tot 2018 Amsterdam ArenA, is een multifunctioneel stadion in Amsterdam bij de Johan Cruijff Boulevard. Het stadion ligt op nog geen 200 meter van station Amsterdam Bijlmer ArenA en is goed bereikbaar per trein, metro en bus. Het stadion werd op 14 augustus 1996 door koningin Beatrix geopend. Het is met 54.990 plaatsen het grootste stadion van Nederland. De Johan Cruijff ArenA is de thuisbasis van voetbalclub AFC Ajax. Sinds de start van het voetbalseizoen 2018-2019 draagt het stadion de naam Johan Cruijff ArenA. In 2020 is de ArenA een van de speelstadions voor het EK.
Naast de wedstrijden van Ajax wordt de Johan Cruijff ArenA gebruikt voor interlands van het Nederlands elftal, de wedstrijd om de Johan Cruijff Schaal en andere belangrijke voetbalwedstrijden. Daarnaast wordt het stadion gebruikt voor popconcerten en andere grote manifestaties. Hoewel het stadion geschikt zou zijn voor concerten, wordt de geluidskwaliteit vaak bedroevend genoemd.
Nadere informatie over de Johan Cruijff ArenA
Andere bronnen
Dit artikel is bedoeld voor de meerderheid van reizigers en behandelt alleen de belangrijkste opties. Als je op zoek bent naar gedetailleerde informatie, of je reist vanaf minder bekende locaties raadpleeg dan andere bronnen:
Trein
Station Amsterdam Bijlmer ArenA
De Johan Cruijff ArenA ligt op 5 minuten lopen van station Amsterdam Bijlmer ArenA. Dit is een treinstation, maar metro 50 en 54 en verschillende (streek)buslijnen stoppen hier ook. Dit station moet overigens niet verward worden met Halte Amsterdam ArenA. Dit laatste is een spoorweghalte bij de Johan Cruijff ArenA, speciaal voor supporterstreinen bij risicowedstrijden.
Treinen
Treinen die station Amsterdam Bijlmer ArenA aandoen rijden vaak via:
Utrecht Centraal
Amsterdam Centraal
Amsterdam Airport Schiphol
Mocht er geen rechtstreekse trein zijn uit jouw regio, dan kunt je vaak overstappen op een van deze stations. Station Amsterdam Bijlmer ArenA is per trein rechtstreeks onder andere bereikbaar vanuit:
Utrecht, Amsterdam Centraal, Amsterdam Airport Schiphol, Den Haag, Leiden en Rotterdam
Ede-Wageningen, Arnhem Centraal, Nijmegen
's-Hertogenbosch, Eindhoven, Helmond, Venlo
Uitgeest, Zaandam, Breukelen, Woerden, Gouda, Driebergen-Zeist, Rhenen
Metro
De Johan Cruijff ArenA is ook prima bereikbaar met de metro vanuit de meeste treinstations in Amsterdam.
| Station | Metro | Richting |
| --- | --- | --- |
| Station Amsterdam Centraal | M54 | Gein |
| Station Amsterdam Amstel | M54 | Gein |
| Station Amsterdam Sloterdijk | M50 | Gein |
| Station Amsterdam Lelylaan | M50 | Gein |
| Station Amsterdam Zuid | M50 | Gein |
| Station Amsterdam RAI | M50 | Gein |
| Station Duivendrecht | M50 + M54 | Gein |



Metrolijn 52 (Noord/Zuidlijn)
Wil je met de Noord/Zuidlijn naar de Johan Cruijff ArenA? Dat kan, maar je moet wel overstappen.
Richting Zuid
Omdat het stadion ten zuiden van Amsterdam is gelegen, zal het vaak het snelste zijn om metro 52 richting station Zuid te nemen. Het eindpunt van deze metro is station Zuid. Op station Zuid ga je met de trap naar beneden. Je hoeft niet door de GVB-poortjes en checkt niet uit. Beneden de trap ga je naar links en met de trap of roltrap weer omhoog naar het perron van metro 50 richting Gein. Metro 50 brengt je vervolgens naar het stadion.
Richting Noord
Wilt je liever met de Noord/Zuidlijn (52) via Centraal Station reizen, of bent je per ongeluk in metro 52 richting Noord gestapt? Stap dan op Centraal Station over op metro 54 richting Gein. Metro 54 brengt je vervolgens naar het stadion.
Welke halte moet ik uitstappen?
Veel bezoekers van de Johan Cruijff ArenA zijn vanwege de naam van het station geneigd uit te stappen op trein- en metrostation Amsterdam Bijlmer ArenA. Het stadion is echter heel groot en ligt tussen 2 metrostations in. Er zijn 2 haltes waar je uit kunt stappen: metrostation Strandvliet en station Bijlmer ArenA. Welk station het handigste is hangt af van het vak waar je kaartjes voor hebt. Besef hierbij ook dat de looproute vanaf metrostation Strandvliet veel rustiger is en je niet via de drukke Johan Cruijff Boulevard hoeft te lopen. Aan de zijde van metrostation Strandvliet zijn er tijdens grote evenementen ook kramen met eten, drinken en fan-merchandise.
Metrostation Strandvliet
Stap hier uit voor de vakken: A, B, C, D, en K. Eventueel kun je hier ook uitstappen voor de hoofdingang (E).
Metro- en treinstation Amsterdam Bijlmer ArenA
Stap hier uit voor de vakken: E (hoofdingang), F, G, H, J en M.
(Click voor een grote kaart in een nieuw venster)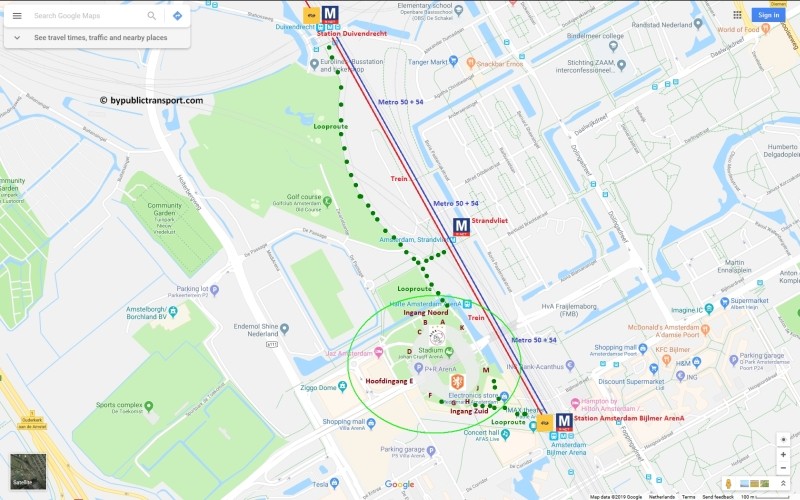 Looproutes
Looproute vanuit trein- en metrostation Amsterdam Bijlmer ArenA
Verlaat de metro- of trein en loop richting de roltrap- of lift. Voor de metro loop je tegengesteld aan de rijrichting; richting de achterzijde van de metro dus. Ga met de roltrap of lift naar beneden en check uit bij de juiste vervoerder. Voor de trein check je uit bij een poortje van de NS. Als je met de metro bent gekomen, check je uit bij het GVB.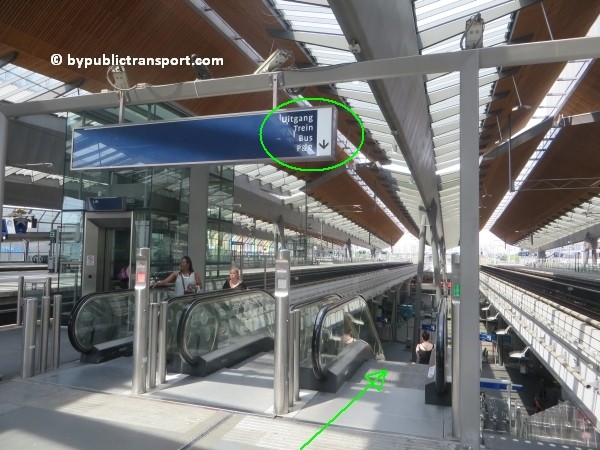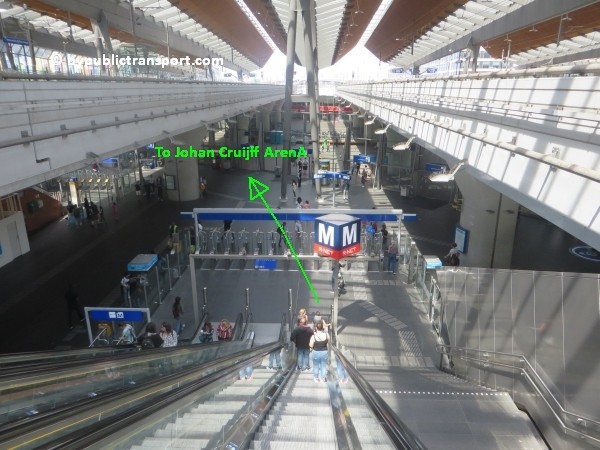 Na het uitchecken loop je naar links en verlaat je het station via een van de glazen schuifdeuren. Via de Johan Cruijff Boulevard loop je in een paar minuten naar de Johan Cruijff ArenA. De Johan Cruijff Boulevard is onder andere herkenbaar aan de grote Pathé Arena IMAX bioscoop en grote MediaMarkt, Prénatal en Decathlon winkels.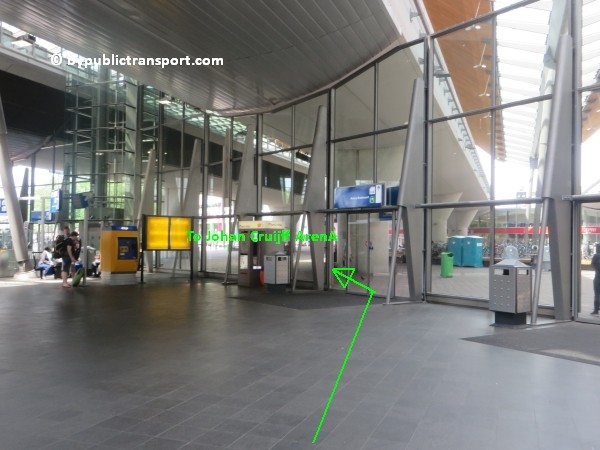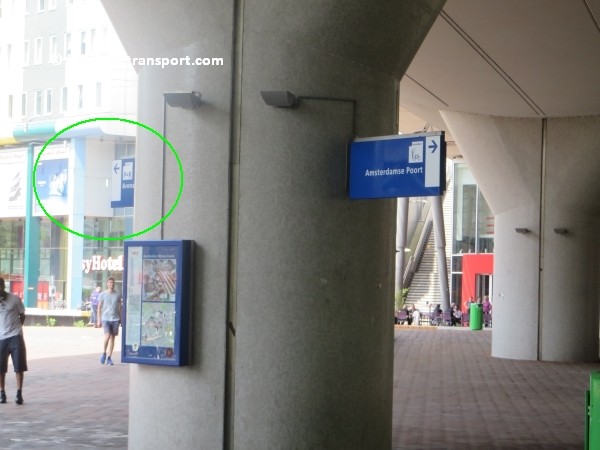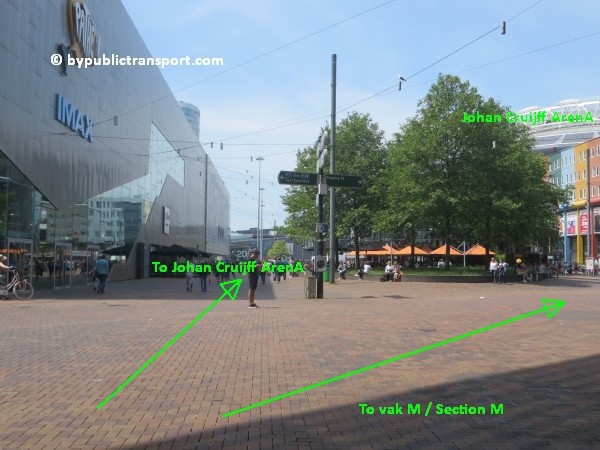 Vak M
Dit vak is het makkelijkst en snelst bereikbaar via een doorsteekje naast het easyHotel Amsterdam Johan Cruijff Boulevard.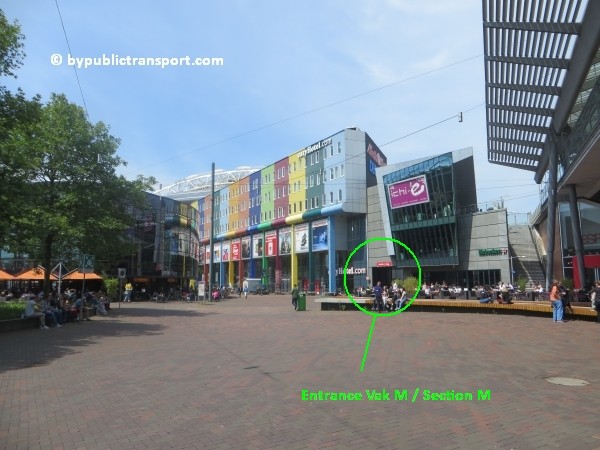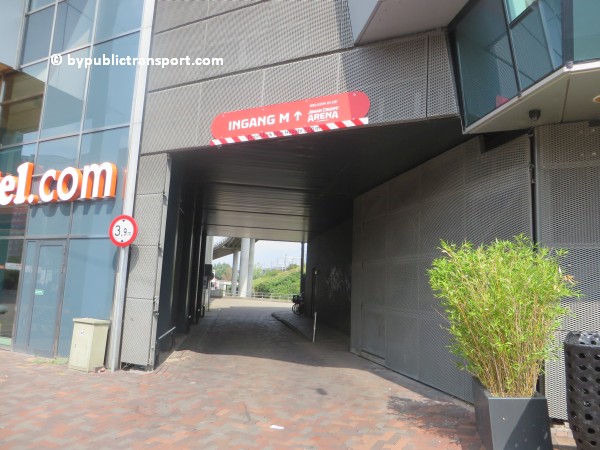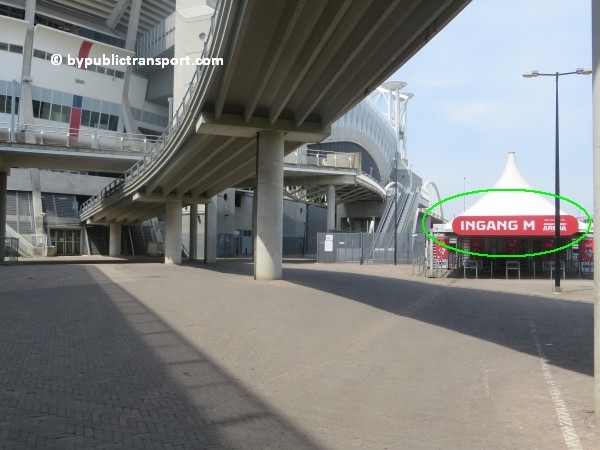 Voor de overige vakken loop je voorbij de MediaMarkt en Decathlon winkels. De ingangen voor de vakken J / H zijn net voorbij Decathlon.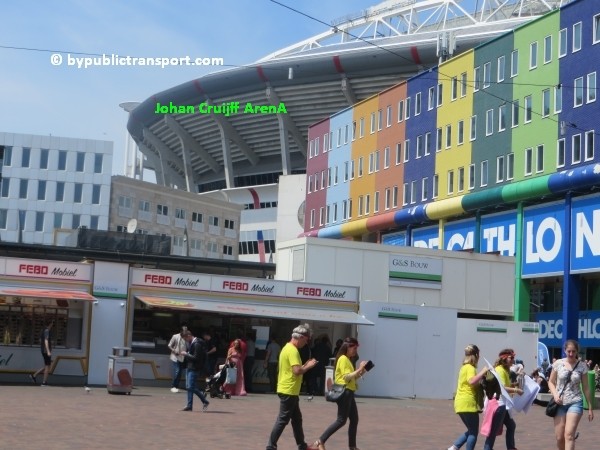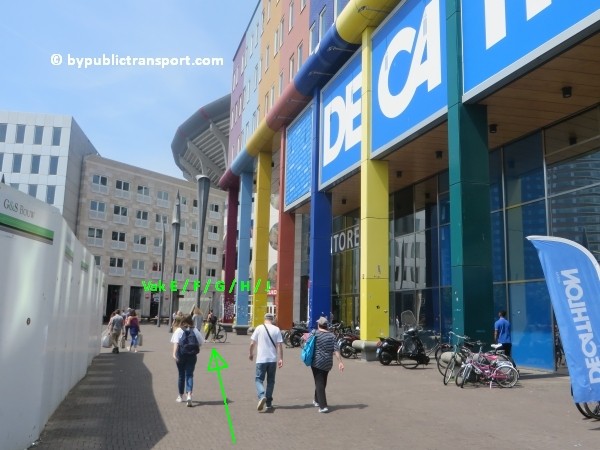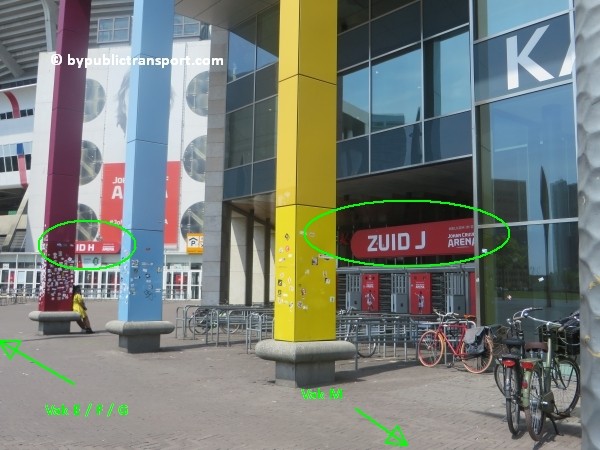 Looproute vanuit metrostation Strandvliet
Het station heeft een eilandperron met aan beide uiteinden een uitgang. De zuidelijke uitgang vervult een rol in het stadionvervoer ten behoeve van de ArenA. Loop in de richting van de voorzijde van de metrotrein en loop via de trap naar beneden. De ArenA is aangegeven op een blauw bord onder aan de trap. Check uit bij de GVB-poortjes en verlaat het station naar rechts.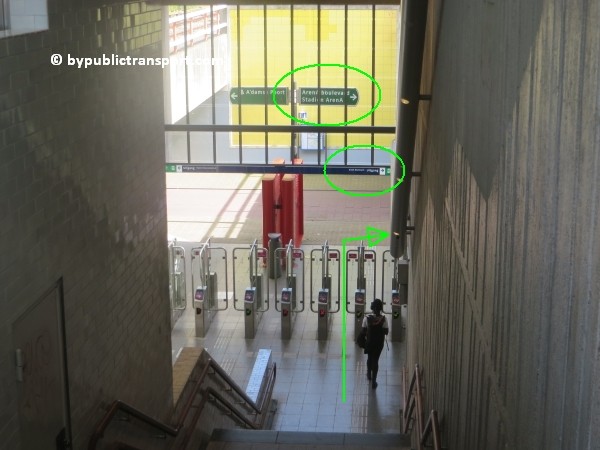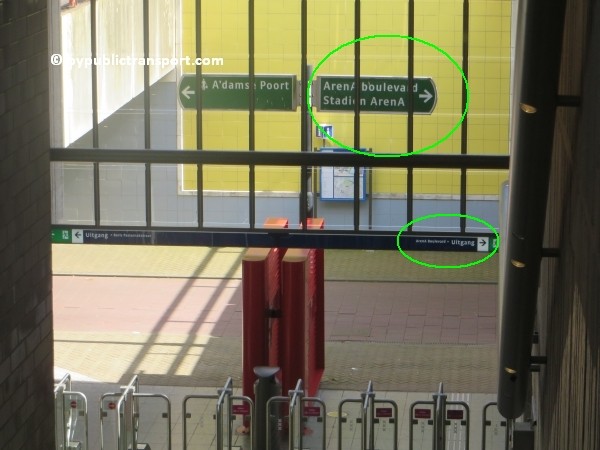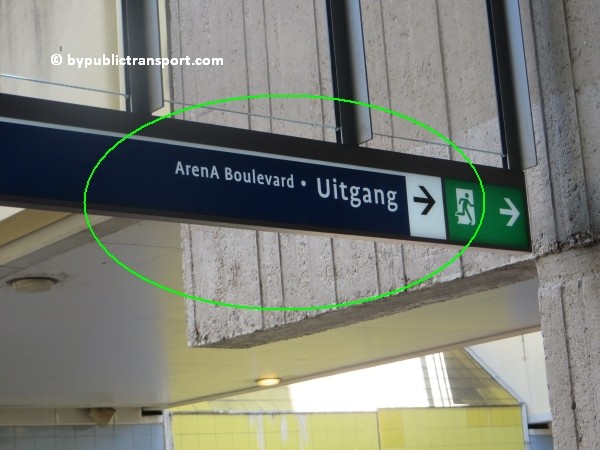 Ga onder de smalle viaduct door en sla af naar links, langs het trainingsveld. De Johan Cruijff ArenA wordt meteen zichtbaar en is 3 minuten lopen.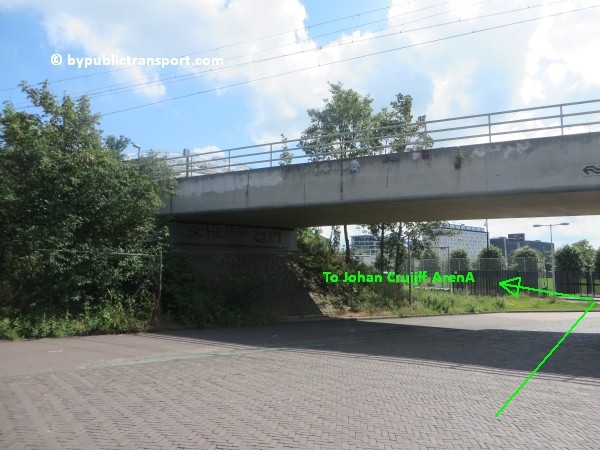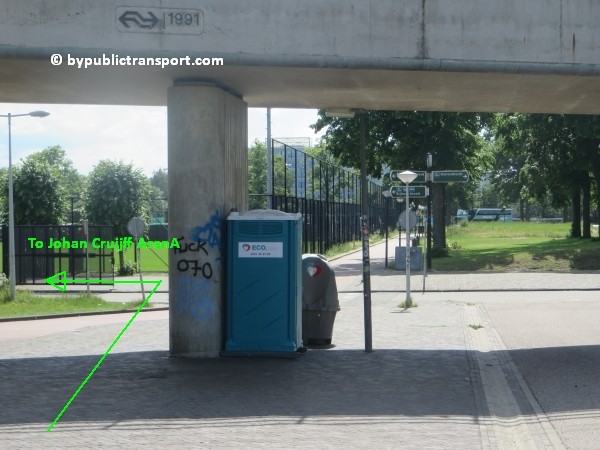 Route vanuit station Duivendrecht
Als je per trein bent aangekomen op station Duivendrecht kun je overstappen op de metro 50 en 54 richting Gein naar metrostation Strandvliet (1 halte) en metro- en treinstation Amsterdam Bijlmer ArenA (2 haltes). Er is echter ook een goede, makkelijke wandelroute naar de Johan Cruijff ArenA. De wandeling duurt ongeveer 10 minuten.
Wandelroute
Het station bestaat uit 2 niveaus. Ga helemaal naar beneden en verlaat het station via de trap naar de begane grond. De ArenA staat aangegeven op het blauwe bord onderaan de trap. Zorg dat je uitcheckt bij de juiste vervoerder. Loop bij het verlaten van het station naar rechts.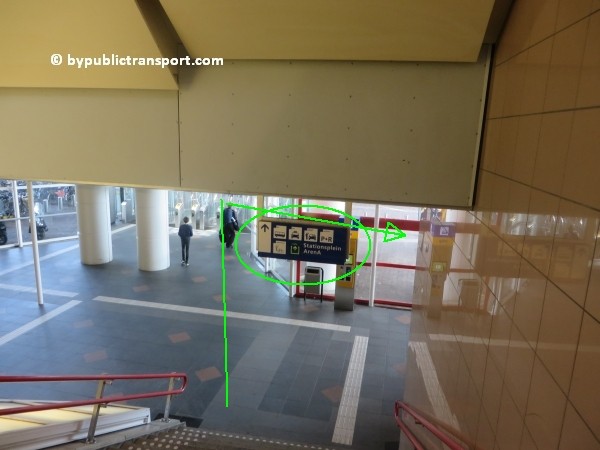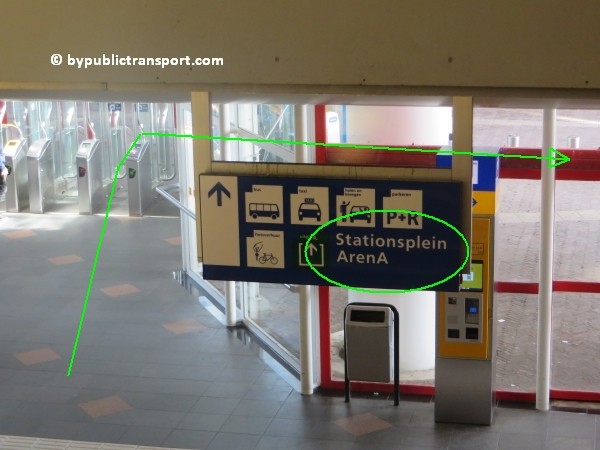 Steek vóór het bord Johan Cruijff Boulevard links het zebrapad over naar de wandelroute, die begint bij de bushalte en het parkeerterrein Q-Park P+R Stationsplein. Loop tussen het parkeerterrein en de spoordijk door. Nu is het een kwestie van de wandelroute volgen tot je de Johan Cruijff ArenA ziet. Je passeert metrostation Strandvliet aan je linkerzijde. Vanaf daar is het nog 3 minuten lopen.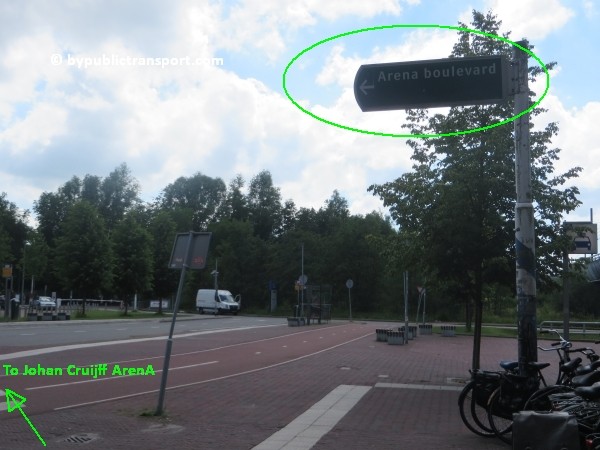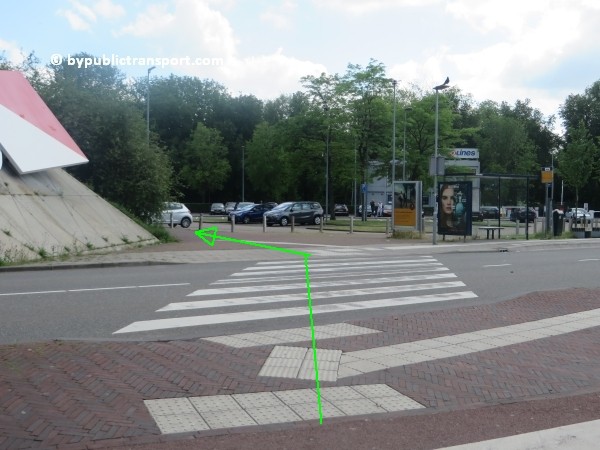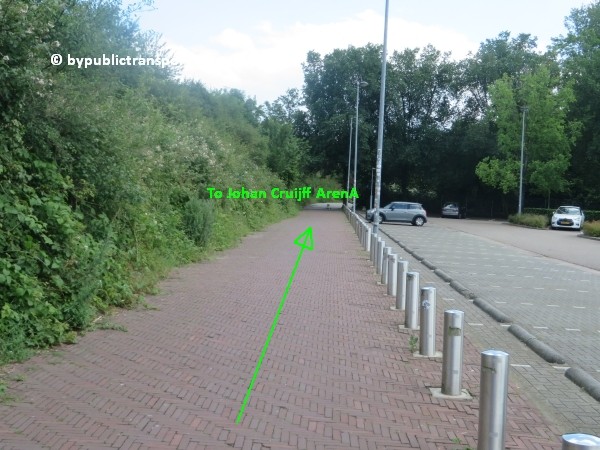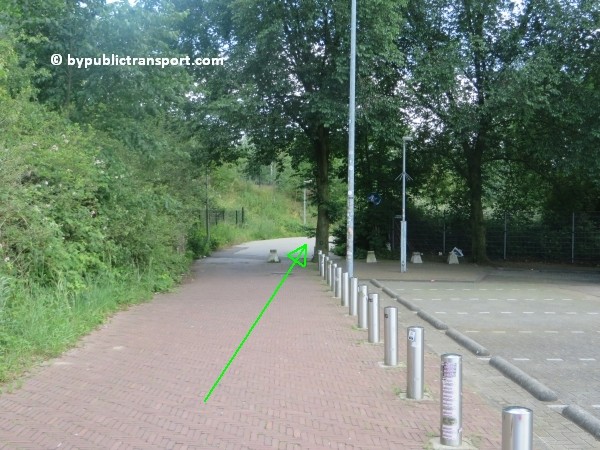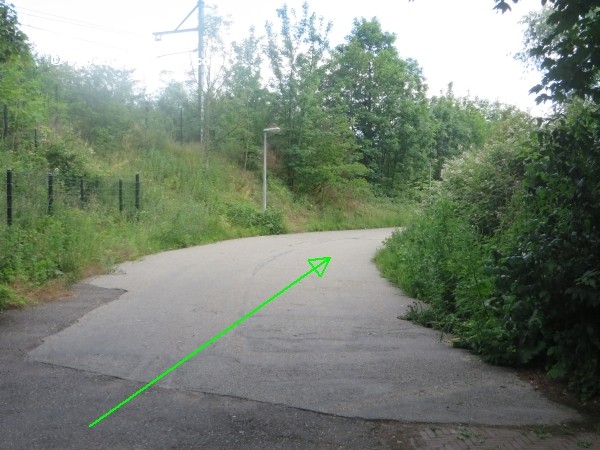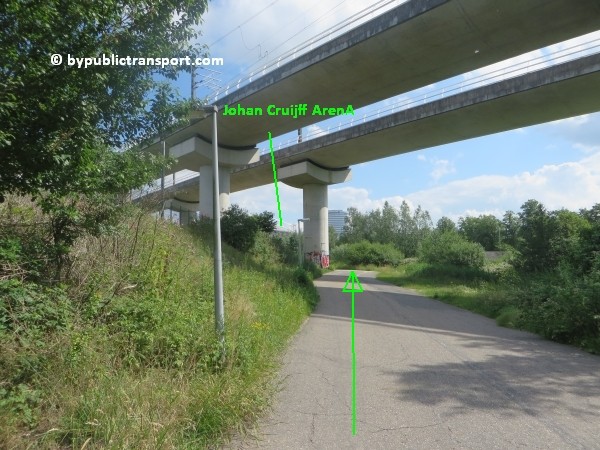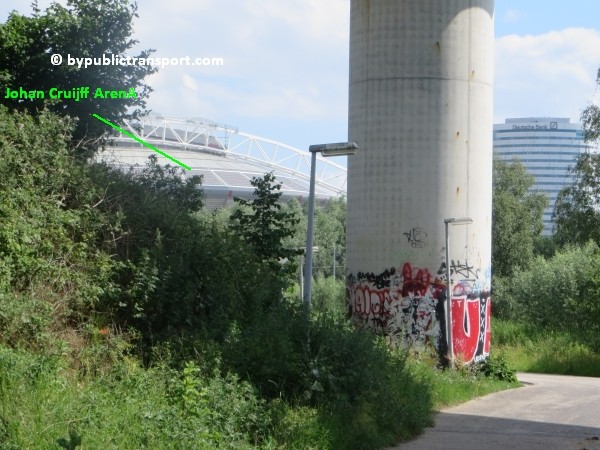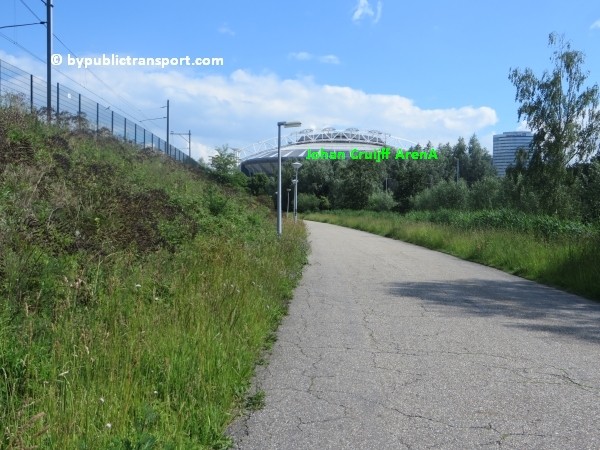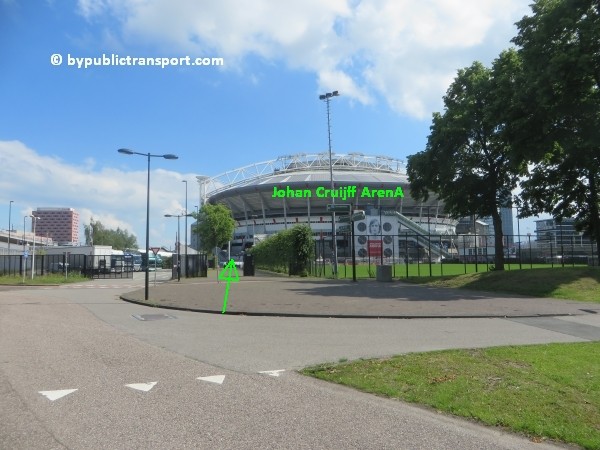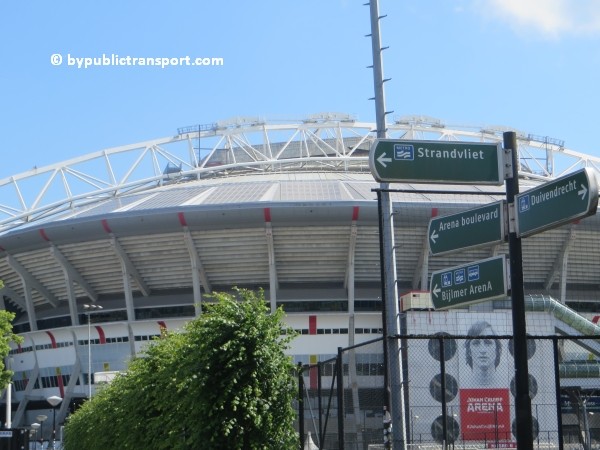 Bus
Busstation Bijlmer ArenA is het belangrijkste busstation voor Amsterdam-Zuidoost (Bijlmer). Streeklijnen uit onder andere Utrecht, Haarlem, Aalsmeer, Weesp, Purmerend, Mijdrecht en Almere vinden er hun eindpunt/tussenstop, evenals diverse stadsdiensten en nachtbussen. Het busstation bevindt zich onder de sporen. Je vindt hier onder andere de volgende bussen:
Stadsbus
44 Diemen
47 Gaasperplas – Holendrecht
66 Diemen – IJburg
Streekbus
49 Gaasperplas – Weesp
120 Holendrecht – Abcoude – Breukelen – Maarssen – Utrecht CS
126 Vinkeveen – Wilnis – Mijdrecht
171 Amstelveen – Aalsmeer
202 Muiden – Naarden P+R Gooimeer – Blaricum Tergooi
209 Muiden – Naarden P+R Gooimeer – Blaricum Tergooi – Laren
255 Haarlem
R-net
300 Amstelveen – Schiphol – Hoofddorp- – Haarlem
323 Muiden – Almere Poort – Almere Stad – Almere Parkwijk
328 Muiden – Almere 't Oor – Almere Haven
356 Amstelveen – Haarlem
Nachtbus
285 Centraal Station – Rembrandtplein – Amstelstation – Bijlmer ArenA – Holendrecht – Gein
287 Centraal Station – Rembrandtplein – Oost – Diemen – Geinwijk – Bijlmer ArenA
N26 Amsterdam Leidseplein – Bijlmer ArenA – Mijdrecht – Wilnis – Woerden (Nachtversie van lijn 126)
N30 Bijlmer ArenA – Amstelveen – Schiphol – Hoofddorp – Haarlem Station – Driehuis – IJmuiden (Nachtversie van lijn 300)
Laatste update: 10 juli 2022